DVDs =
Gundam Wing-The Endless Waltz
This action/robot combat movie has been in circulation for the last 4 years and remains to be one of the anime movies ever made! Anime Village produced this movie in 1997. The movie itself is 180 minutes and the DVD offers it in either Japanese or English! DVD discreption- After Colony 196. A year has passed since the events that took place in the original Gundam Wing television series. Tranquility has spread throughout the Earth and the colonies are at peace. The Gundam pilots now find themselves attempting to rebuild their lives in this new era. No longer having any need for their weapons of war, they have sent their Gundams into the sun to be destroyed. But suddenly Relena Darlian, a high-ranking government official, is kidnapped by a colony with aspirations of total domination. The Gundam pilots and their allies find themselves called into action once again. The Endless Waltz has begun...

DVD contains both the movie version and the 3 uncut OAVs!
This review, is an official Anime City 3 review and is written by webmaster Ozleo.

Edition Details:
Region 1 encoding (US and Canada only)
Color, Animated
Contain the first three episodes: "War for Two," "Gundams in the Jungle," & "The Time Limit on Trust"
Textless Opening
Special Animation Clip

courtesy of
Amazon.com
, selling now for only $22.48
Average Customer Review:
Based on 39 reviews
Newly Remastered Transfer
New 5.1 Dolby Digital Japanese Audio
Japanese Stereo Audio
English Subtitles
The Legendary Gundam Movies Now on DVD!

Universal Century 0079. Amuro Ray, a normal boy, finds himself the newest soldier in the war between the Earth Federation and the Principality of Zeon when he becomes the pilot of the Federation's prototype Gundam mobile suit their greatest new hope. Now, he and the rest of the inexperienced crew of the ship White Base will have to fight for their very lives as the enemy attempts to destroy this new weapon. And Amuro comes face-to-face with the man who will become his archrival, Zeon ace pilot Char Aznable.
courtesy of the back of the DVD!

Mobile Suit Gundam MS 08th Team: Miller's Report
Released By:
Bandai Entertainment
MSRP:
$29.98
Running time:
50 minutes
Aspect Ratio:
1.33:1
Release Date:
03/19/2002
Review Date:
03/07/2002
Region:
1
Universal Century 0079 Federation Intelligence Officer Alice Miller has been assigned to investigate Shiro Amada, Commander of the 08th MS Team. Her mission: to uncover details of his mysterious prolonged absence after the last battle and to determine whether or not he is a spy for the Zeon forces.

Facing the potential end of the his military career, Shiro must finally choose between military duty and his relationship with Aina as the 08th MS Team strives once more to prove itself in battle.

Review ritten by Animeondvd.com site people
Mobile Fighter G-Gundam Vol. #1

Released By:

MSRP:

$19.98

Running time:

100 minutes

Aspect Ratio:

1.33:1

Release Date:

11/05/2002

Review Date:

10/12/2002

Region:

1
G Gundam Vol. 1: G Gundam is pretty diffrent from the other Gudam series but its diffrences are what make it memorable, although G Gundam may not be that colourful and bright like Wing, G Gundam is dark and really shows reflection to its story, G Gundam is set in the FC 60 era and is an AC series about a group of "Gundam Fighters" who try to win a "Gundam Fight" for there Neo countries and win the domination of the Earth. G Gundam is an awsome buy and ive personaly watched the series and it is very good!
English Language ,English Subtitles, Japanese Language
Earth the not-too-distant future.A city is miraculously reborn just sixteen years after being completely destroyed by a giant meteor. Our story begins in the prestigious Graviton High School for Girls, nestled in the suburbs of the booming metropolis, as the English teacher, Miss Ayumi, introduces two new students A-ko and her ditzy sidekick, C-ko.
A-ko is a lively seventeen-year-old, no different from any other... Except for the fact that within her diminutive frame lies a strength that can only be described as superhuman. The trouble begins when B-ko, the spoiled but brilliant daughter of a business tycoon, decides she wants C-ko for herself. And once B-ko decides she wants something, heaven help anyone who stands in her way. Unless that anyone is A-ko. B-ko becomes the irresistible force and A-ko the immovable object as action explodes across the unsuspecting city. B-ko goes up against the invincible A-ko with her arsenal of powered robot-suits, including the most powerful of all Akagiyama 23.

Meanwhile a monstrous alien spaceship plies its way toward Earth in search of? What is the connection between the girls and the alien ship? Who is the mysterious d? What is the secret of A-kos power? What dark past fuels B-kos rage? Why is C-ko such a space-case?

Project A-ko is Japanese animation as youve never seen it before!

this review was taken off the back of the VHS movie
This front-image T-shirt features an image of EVA units in the foreground, with the big eyes of their pilots looming in the back ground with the Neon Genesis Evangelion logo. Show your loyalty to NERV and its plucky, angst-pilots with this $16.95 tee from Fashion Victim.




3 X 3 Eyes
Released By:
Pioneer Animation
MSRP:
$64.95
Running time:
270 minutes
Aspect Ratio:
1.33:1
Release Date:
02/27/2001
Review Date:
07/06/2002
Region:
1
Reviewed By:
www.animeondvd.com
Legends whisper about the ancient Sanjuiyan, powerful three-eyed demons that possessed the secret of immortality. Yet their fascination with humanity led to their slaughter by one of their strongest leaders, Lord Kaiyanwan today, humanitys blind arrogance has built a civilization that believes only in itself and we preserve our sense of security only by refusing to see the shadow-world lurking beneath the surface of our own One man, Yakumo, will be forced to confront this hidden world and discover the curse of immortality. What he finds will force him to embrace the demon world to find not only its humanity, but also his own




Excel Saga Vol. #1
Released By:
ADV Films
MSRP:
$29.99
Running time:
125 minutes
Aspect Ratio:
1.33:1
Release Date:
06/11/2002
Review Date:
05/27/2002
Region:
1
Reviewed By:
www.animeondvd.com
Excel Saga is a one-of-a kind work of art that can only be described as the
ultimate parody of anime. From the opening credits - a rather odd spoof of
Japanese pop videos - to the ending song featuring Menchi the dog
singing/barking a plaintive ballad while a human interpreter translates for
viewers, nothing is sacred in the world of Excel Saga.

Key Facts: Excel Saga contains the chronically over-challenged and
understaffed secret ideological organization of ACROSS (total membership:
2), whose goal is to conquer the city of F. It contains your complete daily
requirements of Martian princesses, afro-wearing action heroes, mysterious
governmental agencies, space butlers, deranged comic book authors,
androgynous prisoners in iron masks, annoying roommates, removable
moustaches and a generous supply of adorably cute aliens bent on galactic
domination. Excel Saga contains one (1) emergency food supply/singing dog
and one (1) Excel, the most certifiably insane teenage girl to ever walk the
face of the planet.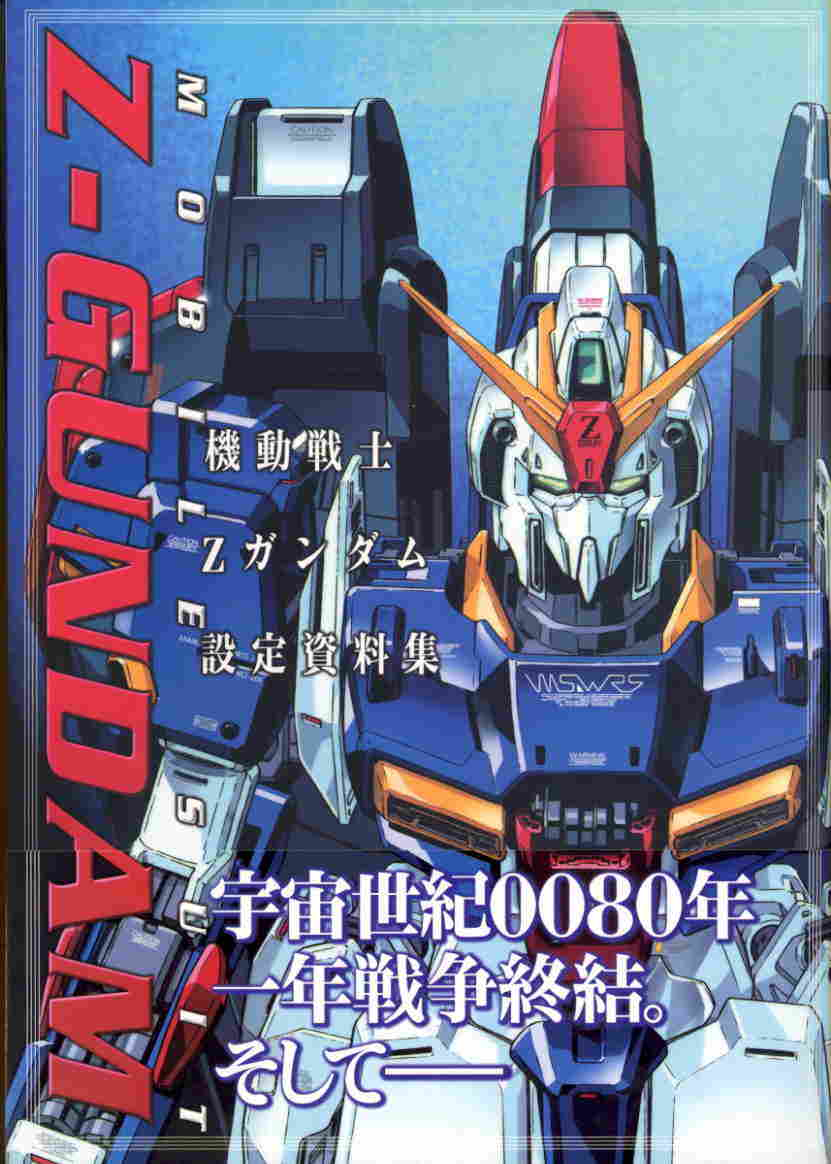 Zeta gundam books