Watch Medabots and Beyblades and then go and buy there merchandise (i dont know why)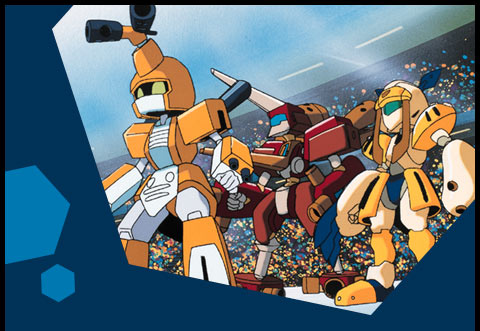 Join the adventures of Ikki and his super-robot, Metabee in the year 2122 as they compete for the robot championship! In this futuristic world, high-powered transforming robots, known as Medabots duke it out in "robattles" in hopes of becoming the robattle champion of the world. To reach their ultimate goal, Ikki and Metabee must fend off enemies like The Rubberrobo Gang, The Screws, and Ikki's biggest rival Koji and his Medabot Sumilodon. Let the robattles begin!



More Medabots. More Power.




2001 Nelvana Limited. Based on the computer game software "Medarot" produced by Imagineer Co. Ltd. & Natsume Co. Ltd. 1997 Imagineer, Natsume. TM KODANSHA 1999 NAS/KODANSHA, TV Tokyo.





Foxuno

A new Medabots comic has been released from Viz comics subtitled, A Boy and his Robot. With not much information on the comic, animecity3 will provide more when more information comes out.



BeyBlade 3 figure power pack (attach them to your BeyBlade)

Medabot episode guide:

#1
stung by a metabee!
This starts off the Metabots series with a young boy name ikki whos one of the only kids in his school whithout a medabot, but thats all about to change when ikki finds a Medabot medal in the river! Ikki goes to a 24 hour hopmart where he buys his first Medabot to save his friend earika whose being assaulted by a gang of Medabot rockers!

Medabots can be seen on Fox kids and YTV on Saturdays!

Medabot toy line below



Cyan-dog (crosser-dog) limited toy (your able to take off the parts and attach others to it(metabee)
Medabot toys are now avaible in most toy stores including Toys `R Us
BeyBlades are the newest battle top toys to hit America straight from Japan
Below are the basic rules for the new BeyBlade game:
Basic Beyblade Rules of Play courtesy of Hasbro toys
All BEYBLADE battles must occur in BEYSTADIUM! -- BEYSTADIUM cannot be on table or other elevated surfaces
To begin official BEYBLADE battles, BEYBLADE tops must be launched after the signal of 3,2,1 LET IT RIP!
Only one launch per battle -- battle ends when one top stops spinning
If player touches opponent during opponent's launch of top, player loses 1 point
Player scores 1 point if opponent does not launch top into the BEYSTADIUM
If player's top enters one of the three penalty pockets anytime during battle, opponent scores 2 points (max score of 2 points per battle)
Player scores 1 point if his/her top spins longer than opponent's top
If player touches BEYSTADIUM during battle, opponent scores 3 points-battle immediately over
Compete in multiple battles-the player with 7 or more points at the completion of a battle wins!
Special Power Spirit Rules pump up the Beyblade action! Each battle is fought under one special rule of play. Will your opponent change his battle strategy? Can you use the rule to your advantage? LET IT RIP and find out!
Dragoon Storm (Dragon Spirit) Reverse Launch = Opponent must launch his/her top with his/her opposite (non writing) hand
Draciel (Turtle Spirit) Delay Launch = Launch your BEYBLADE top 5 seconds after opponent launches his/her top
Dranzer (Phoenix Spirit) Power Launch = Player can use a Deluxe BEYBLADE launcher while opponent can only use the standard BEYBLADE launcher
Driger (White Tiger Spirit) Customization Launch = Opponent cannot use a customized top. His/her top must come straight out of the box.
BeyBlade tops:
BeyBlade stats:
BeyBlade stats produced by Hasbro toys