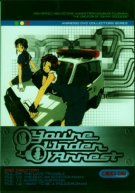 You're Under Arrest Vol. #01
Released By:
AnimEigo
MSRP:
$24.95
Running time:
120 minutes
Aspect Ratio:
1.33:1
Release Date:
11/04/2002
Review Date:
10/27/2002
Region:
1
Natsumi decides that she's going to make it to her first day of work somewhere near the time she's scheduled ... and that means breaking about every traffic law in the city. What's to stop her? why ... officer Miyuki (she's about as omnipresent as Big Brother) of course!
Japanese Language, English Language, English Subtitles.