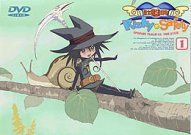 Risky Safety Vol. #1
Released By:
AN Entertainment
MSRP:
$29.98
Running time:
80 minutes
Aspect Ratio:
1.33:1
Release Date:
07/08/2003
Review Date:
06/26/2003
Region:
1
Join young Moe, the devilish apprentice death spirit Risky, and the pure-hearted apprentice angel Safety in a funny and touching tale of fate, friendship, love, the cosmic balance of the universe, and even a few giant monsters!

Thinking that she can never see her boyfriend again, Moe's despair summons a spunky soul collecting apprentice spirit of death named Risky. Risky urges Moe to depart the mortal realm, leaving behind her precious soul until a glimmer of hope and a brief smile on Moe's face cause Risky to transform into Safety, a polite and proper apprentice angel who just happens to share a body with Risky. Accompanied by a feisty apprentice devil and a delicate apprentice angel, Moe's life suddenly becomes a humorous and touching trial of balancing her love life with protecting her schoolmates from Risky's devilish clutches. The best of Japanese animation combined with a charming universal story about the struggle between light and dark make Moe's adventure a contemporary fairy tale for all ages!

The Risky Safety DVDs will feature reversible covers giving fans their choice of a "Risky side" or a "Safety side" with matching English or Japanese logo.
Japanese Language, English Language, English Subtitles ,Reversible Cover, Outtakes, Translators Notes, Textless Ending, Original Japanese Ending, Image Gallery